G5 Announces New Chief Financial Officer – Veteran Silicon Valley Financial Executive Tanya Capuano Joins G5
FOR IMMEDIATE RELEASE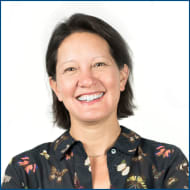 BEND, Ore., October 5, 2017 — G5, the digital marketing leader for real estate property management companies and one of North America's fastest-growing technology companies, today announced the appointment of Tanya Capuano as Chief Financial Officer. Reporting directly to G5 CEO Dan Hobin, Capuano will be instrumental in driving strategic initiatives to continue G5's high-revenue growth rate and provide leadership to reach long-term financial goals.
"We are happy to welcome someone with Tanya's experience and talent," said Hobin. "Her proven ability to spearhead efforts that drive growth as well as her reputation as an influential operating executive will be invaluable to G5's future success."
"I am excited to be part of such an innovative company with a reputation for providing exceptional outcomes for our clients," said Capuano. "Through disciplined management and thoughtful strategic planning, I look forward to helping G5 achieve its vision."
Capuano has an array of progressive management experience including strategy, mergers and acquisitions, and financial planning and analysis in technology. She also earned three degrees from Stanford University, including an MBA, and has served on several nonprofit boards supporting education.
Capuano's most recent role was leading finance for several businesses at Intuit including Mint, QuickBase and QuickBooks. In addition, she was an executive on several management teams responsible for setting strategy and delivering results in core functional areas such as Intuit's customer care and product development organizations. Her background also includes leading acquisitions and divestitures at Hewlett-Packard, as well as strategic development as a management consultant earlier in her career.
About G5
As the leading data-driven marketing company in the property management sector, G5 empowers marketers to effectively impact growth in today's increasingly complex mobile and social world. G5 offers tailored lead generation strategies that perform, website designs that convert, and analytics that drive action – all through a cloud-based platform that has earned the trust of over 7,000 properties throughout the U.S. and Canada. With more than 12 years of experience in the real estate industry, G5 was recently named one of the fastest-growing private U.S. companies by Inc. magazine and one of North America's fastest-growing technology companies by Deloitte. The Bend, Oregon-based company is backed by private equity investor PeakEquity Partners. For more information, visit GetG5.com.
Media Contact:
G5
Amy Foster Trenz
541.306.6321
amy.trenz@GetG5.com
Get News, Articles & Updates in Your Inbox