G5 Announces New Chief Marketing Officer – David Roussain Brings Revenue Growth Experience to G5
FOR IMMEDIATE RELEASE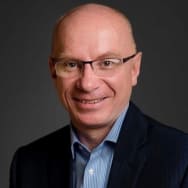 BEND, Ore., November 2, 2017 – G5, the digital marketing leader for real estate property management companies and one of North America's fastest-growing technology companies, today announced the appointment of David Roussain as Chief Marketing Officer. Roussain is a veteran executive with more than 20 years of management experience in technology, marketing, and business development. As CMO, he will oversee all aspects of brand communications, product marketing, and demand generation, including the development and execution of strategies required to deliver effective G5 messaging to marketing professionals.
"G5's cloud-based marketing innovations have positioned the company for strong growth, and I am excited to lead a focused approach to build the G5 brand," Roussain said. "G5 is a trusted guide in the industry, leading the way to empower marketers to achieve outstanding results – and we intend to share that message to the entire industry."
Prior to joining G5, Roussain was the Chief Marketing Officer for HighQ, a UK-based SaaS provider for the legal vertical, and Vice President of Marketing for AppNexus, a digital media SaaS platform where he helped increase reach with advertisers and publishers to achieve an annual 40 percent revenue growth. Previously, he was Vice President of Marketing at AppSense and was instrumental in quadrupling revenues from $30 million to $120 million across Europe and the U.S. His background also includes marketing leadership tenures at Hewlett-Packard, Federal Express, and Citrix Systems, where he was Group Vice President Marketing for Virtualization Solutions.
Roussain reports directly to G5 CEO Dan Hobin.
"David brings a wealth of insight and experience that will help us elevate the G5 brand, stimulate increased demand for our services, and drive revenue growth," Hobin said. "We are delighted to welcome his inspiration and leadership."
About G5
As the leading data-driven marketing company in the property management sector, G5 empowers marketers to effectively impact growth in today's increasingly complex mobile and social world. G5 offers tailored lead generation strategies that perform, website designs that convert, and analytics that drive action – all through a cloud-based platform that has earned the trust of over 7,000 properties throughout the U.S. and Canada. With more than 12 years of experience in the real estate industry, G5 was recently named one of the fastest-growing private U.S. companies by Inc. magazine and one of North America's fastest-growing technology companies by Deloitte. The Bend, Oregon-based company is backed by private equity investor PeakEquity Partners. For more information, visit GetG5.com.
Media Contact:

G5
Amy Foster Trenz
541.306.6321
amy.trenz@GetG5.com
Get News, Articles & Updates in Your Inbox