Leveraging Google My Business and New Local SERP Elements
Google recently started providing dynamic and filterable local results within Google Search and Maps. This means, depending on the search query, one can filter their results by criteria such as business hours, review ratings, and services provided. Also, the amount of business information on the SERP itself has expanded and Google will display review stars for businesses with fewer than five reviews. Now, a user can pretty much find everything they need to know about a business, and even call the business, without navigating to the business's website.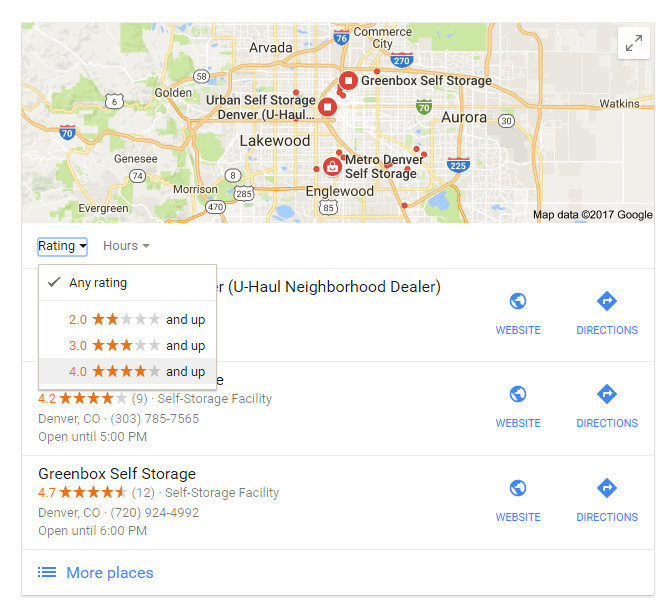 Google pulls much of its expanded SERP information directly from Google My Business. In order to capitalize on these updates and fully leverage the opportunity, it is important to completely fill out all applicable areas of the Google My Business listing.
Make GMB Work for Your Business
It is important to note that Google is constantly testing out new search engine result page (SERP) elements on different markets, so keeping up with the latest SEO trends is not always easy. However, keeping your eyes and ears open to this type of intelligence, or partnering with someone that does, can give you the edge you need to outperform your competition. The following suggestions will help you better position your business to align with Google's most important local ranking factors and ultimately boost your local SERP visibility.
Spot-check Listing Accuracy
This is important because Google will periodically update business listings based on signals received from across the web. Google also allows public users to suggest edits to business information. These could include details pertaining to brand name, street address, phone number, and website. All updates go through an approval process within the GMB dashboard, where the owner of the listing is given the option to accept or reject. Because of this, It is a good idea to check this dashboard every so often to ensure that your business listing has the most accurate information.
Keep Up with Your Business Hours (including holidays)
We live in a digital age where users now expect an optimal online experience. Anything less could negatively impact your reputation. Not only will prospective customers find it incredibly frustrating when they arrive at your business to find locked doors, they will probably be less likely to return in the future. So make sure the hours shown on your listing are accurate, and just as importantly, make sure you have them listed in the first place. Businesses with no hours may now be filtered out of results altogether.
Always Provide Recent High-quality Photos
Google states right within the GMB dashboard that users engage more with businesses that have newer photos. Utilize this digital touch point as an opportunity to authentically show prospects how exceptional your business, services, and employees are. Whenever possible, update your listing with fresh photos of your location. As seen below, users are able to see when a photo was added and if it's becoming outdated.
Take Full Advantage of Google's Review Platform
For most businesses, reviews are no longer optional. They are hands down the most essential element driving online reputation, and a majority of today's consumers rely on them when making purchasing decisions. Google's algorithm strives to serve up the most relevant and useful information to its users, and it's no surprise that more weight is given to its own review platform, Google My Business. You can take full advantage of this opportunity by adopting an ongoing review strategy. There are many articles on the web that recommend great tactics for how to approach a review generation strategy, but they could pretty much all be boiled down to these three components:
Ask for the review. Otherwise you might end up only hearing from your upset customers.
Make it convenient for the user to leave a review.
Engage with and respond to all reviews, both negative and positive.This not only addresses any problems, it shows prospects and Google that you are deeply involved in your business and dedicated to providing a positive experience.
When it comes to implementing an effective review-generation strategy, timing is just as important as delivering an awesome service. Ask too early and you may come across as pushy; wait too long and you may miss the opportunity. Asking for a review requires finesse, and the best way to ensure that your review strategy in on point is to know your customer.
These recent changes in GMB drive home the point that Google understands what factors are most important to its customers (including your prospects). While these changes are often not universally rolled out to all industries and markets, it still remains important for all local businesses to 1) provide complete business information, 2) generate reviews, and 3) engage with current and prospective customers. Understanding and leveraging these factors will help you create the most optimal digital experience for your customers.
Get News, Articles & Updates in Your Inbox
Thank You for Your Interest
We will be in contact soon and look forward to learning more about you and your company. Based on your marketing challenges, we'll discuss increasing visibility into your analytics and how to generate more and better leads so you can achieve your marketing goals.
In the meantime, we invite you to check out our checklist on website accessibility. Use this checklist to start assessing the baseline accessibility of your website.
Enjoy! We'll be in touch very soon.