Plan Now for Unique Resident Events in 2018
With the end of 2017 approaching, now is a good time for multifamily marketers to think ahead and plan exciting events that will spark greater connection within your communities. Higher engagement leads to greater resident satisfaction, which can benefit your renewal rate. There are many standard resident events that you could host during the spring and summer months, including the classic pool party, holiday gatherings, and summer cookouts. But why settle for the cookie cutter events that everyone else is having? Give your community something useful and fun that will bring people together and get them talking.
The Unusual Cooking Competition
Traditional cooking competitions usually involve chili, pie, or BBQ. Spice them up a notch by trying something unexpected like a mac and cheese, taco, or gourmet sandwich competition. Offer the winner a grand prize and a trophy they can keep until next year's competition. To further engage the community, you can post the winning recipe on social media and produce a blog post on your homepage with photos.
Community Outreach
There are plenty of charitable causes for your community to get involved with. Organize your efforts and choose some ideas that are important to your residents. Have group outings where your team volunteers, then give progress updates online so everyone can appreciate the hard work and impact your community can make when they work together.
The Amazing (Local) Race
Similar to the popular CBS reality show, in this version residents discover interesting new places in their area. Establish teams of 5-10 people and send them to restaurants, unusual shops, historic landmarks, and other places of interest to solve clues and continue the race. You can also partner with these local businesses to offer deals in exchange for the influx of customers.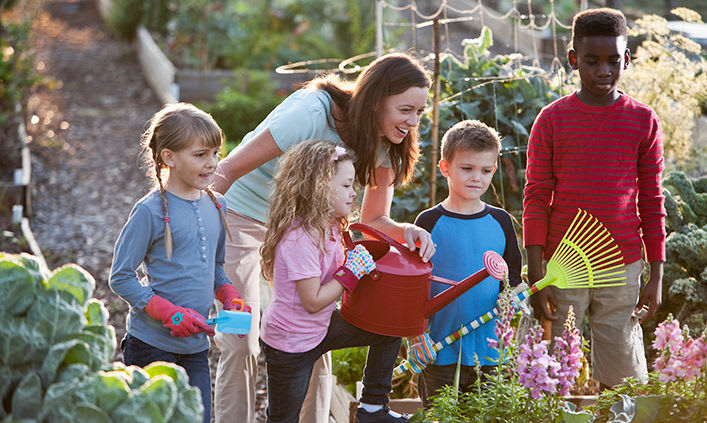 A Garden for All
A community garden will take some planning, but it will serve your residents for years to come. Mark off an area that is easily accessible to everyone, then designate a staff member or someone in the community to direct efforts. This is a great way for residents to work together to produce veggies and fruit that everyone can enjoy. It's also a good learning opportunity for kids and grown-ups alike.
Community Market Sale
Host this event at the beginning of spring when many people are clearing out items they no longer want or need. Set up tables in a communal area where residents can socialize with their neighbors and sell their things. When it's all over, take the remaining items to a local charity.
Trivia Night
This one is a fan favorite and can be a simple recurring event. All you need are topics, an interesting host, snacks, and drinks. Throw in some prizes for the winners, and you have created a fun gathering that could become a part of your community's routine.
Don't Forget About the Kids
Rent bounce houses and inflatable slides for a kid's field day. Include a popcorn machine, an ice cream station, and other yard games and they will be occupied all day. You should also serve beverages and snacks for the parents while they take in the excitement.
Get Creative, Get Organized
Pull together your list of ideas now and schedule them for the coming year. This will give you time to gather the assets you need for successful events. You should also produce a document to track your resident engagement. This will help you decide which events were a hit and which will require more planning for next year. Finally, make sure you are documenting all of these events through photos, videos, and blogs. This type of content can be leveraged on your website and social media channels to show potential residents what your community has to offer.
Partner With an Expert
Hosting these types of special events is a great way to increase engagement and retention, but sometimes you need help to formulate a holistic strategy. Ongoing multi-tiered campaigns, professionally organized and administered, can amplify your digital presence across multiple platforms at the moment when it is most effective.
For more information on boosting your conversion rate through digital marketing, contact G5, a Premier Google Partner, Bing Ads Select SMB Partner, and a Facebook Managed Partner.
Get News, Articles & Updates in Your Inbox